NETWORKS TO WORK (WEBINAR)
Workshop for communications staff 
Get the readers to do all the work!
We call it crowdsourcing. Getting the readers themselves to take an active part in researching, taking photos, and delivering the data for the content on your digital platforms. It could be anything from: Surveys where readers deliver data, instagram contests where readers send in photos, readers writing their own company news, or scientists delivering field reports and photos.
… the possibilities are endless. Whatever it takes to activate your staff, stakeholders and customers by getting them to deliver stories, photo and data to your media platforms.
For communications professionals, crowdsourcing can be a way of increasing readership, activating the most committed brand ambassadors – the best staff, partners and customers, and showing authenticity and credibility. It can also cut costs, as less investment is needed in hired reporting, photography and analysis.
In the Networks to Work workshop we, together, will work out how to crowdsource content from staff, partners and customers. Like the marketing and communications unit of the Free University of Brussels:
Our marketing and communication department had just launched a new site and a new magazine, so we invited Mike to do a workshop. He helped us refocus on our priorities, and he energised our news and content team. I recommend Mike Young Academy to any organisation that needs a fresh look at its communication efforts and a boost to its staff and stakeholder engagement.

Lies Feron, Project manager MARCOM, – Vrije Universiteit Brussel
Are you a university or research institution?
Improve your ranking and brand, and showcase your own researchers in international networks. Mike Young Academy can help universities and research institutions to build and maintain a community of scientists and students across fields and departments and integrate them into an international science and student community.
Are you a company?
Boost your staff and customer loyalty – and cut costs. Mike Young Academy can help companies find and share the good stories, talent and experience across business units and international company offices.
Are you an interest group, advocacy group or lobbyist?
Strengthen the recognition and impact of your arguments and policies. Mike Young Academy can strengthen interest groups' message and impact both at home and abroad.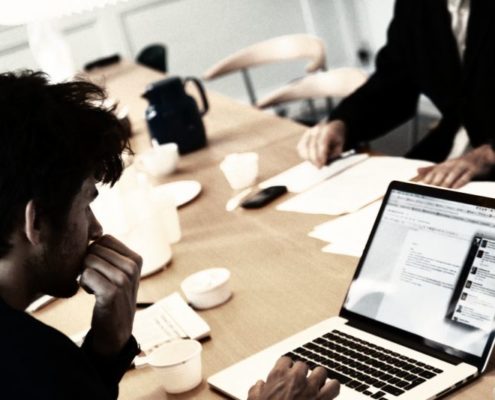 The Networks to Work workshop
The Network to Work workshop consists of:
An introductory meeting with you and your company
My in-depth analysis of your platforms and stakeholders
A one-day workshop, custom made for you and other company communications professionals
You will take home new templates, tips and ideas for journalistic concepts and ideas, tips on how to run good editorial meetings, and tips on how to get your partners, staff and stakeholders activated in producing content.
You also take home a 10-page guideline responding specifically to your needs.
Get your networks to work!
Contact me, Mike Young on 30 66 31 21 or on mike@mikeyoungacademy.dk for a no-obligation price quote.