Over the course of three years she reached an audience of do-it-yourself biology enthusiasts in 162 countries. This is the story behind her story. But it is also a story about how a niche interest can reach a global audience if it hits the right format and is shared to the right people.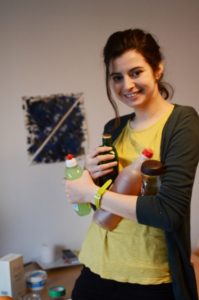 It was back in 2013, and Maria Constantin's article was given the headline 'Five Biological Experiments You Can Do At Home'. I was then editor of the University Post, a media platform for campus and science stories in Copenhagen and I hoped that this, Maria's collection of quirky kitchen experiments, would fascinate budding scientists and help to motivate students to do their own stuff, no matter how nerdy or different they were from everyone else.
The article has now, in total, been browsed and read by 143,000 unique viewers. From the average of five minutes that each of them has spent on the page, it is a fair guess that hundreds if not thousands of these readers have been inspired to try the biological experiments themselves.
I caught up with Maria via a Facetime connection to Amsterdam, where she is now doing her PhD in plant pathology.
"I started the blog when I was an exchange student in Aberdeen, Scotland" explains Maria, who grew up in Romania and Spain.
"When I moved to Denmark, I saw this university media platform for students and scientists and thought it would be cool to write up my own experiments for it. And so I just started writing it, and it was just good fun. You, Mike, I remember, gave me some input for the formatting of it, and we had a photographer out who took a few photos of me doing the experiments, and that was that," she says.
The experiments included things like extracting your own DNA, cultivating the bacteria on your own hand, changing the colour of flowers, and cooking an egg with no heat.
Power of the niche
At first, the article generated just moderate interest, but after we posted it on niche platforms like Reddit, tagged others on Twitter, and some of the key experts and influencers in the field started to get involved, it started to take off. People with an interest in biology like a high school biology teacher in the US or a lab technician in Asia, started to comment and link to it via their own blogs and platforms, and soon the article started to take on a life of its own. As a result, the article started to appear at the top of the search page for Google searches related to science or biological experiments. This generated traffic and interest, day after day, week after week, month after month.
The article started generating traffic back to Maria's own site via the link to her blog in the article. Not only directly from people clicking on the link, but indirectly as a result of the higher authority that her own blog was getting from the search engine as a result of the 'successful' article on the University Post pointing to it.
The interactive article with pictures is no longer online in the same format after the University Post was merged into a Danish-language site, but you can still see most of the text here.
Four years after this article was published, any many science blog pieces later, Maria offers a piece of advice to anyone who has a narrow interest that has the potential to go global.
"Do not underestimate the power of your blog. First of all you will manage to start writing, and this will help you later," she says. "Secondly, you never know what opportunities will turn up."
Maria uses her own blog to express her own curiosity, asking, and then answering, questions like 'why do leaves fall in the autumn?'
"There was a contest in Catalonia. And they gave my blog as an example of how to cultivate bacteria. Another person contacted me through my blog and said they were doing a project on cleaning water for underdeveloped countries. They wondered if I had any further ideas."
While the people who reach out to Maria now are mostly from Europe, the readership on the University Post article was truly global at the time with the largest portion of readers from North America, the second largest group from Asia.
Helped her scientific career
Maria has moved on from being a curious student of biology in Copenhagen to being a scientist in her own right in Amsterdam. But her own amateur experiments, and her own subsequent articles in the field of biohacking, have helped her in her scientific career.
"I mention it on my CV. Just being a scientist is not enough nowadays. People want you to be able to communicate science. Now I am part of the Marie Curie programme for example. They ask you specifically about your non-research activities. Every term we meet up, and the question is: Did you start writing this publication, and how are you going to spread the knowledge about this project?"
Inspired by her experiences in communicating science, Maria is now one of the editors of the Amsterdam Science Magazine, and she scouts for stories for the editorial board:
"The article and my experience in Copenhagen helped me with this. For each science subject area we take on an expert, a researcher in a specific field, to write about something. The researcher pitches the article to us. Some people even put their articles on their grant applications."
Mike Young Academy helps companies, interest groups and universities reach a wider global audience. Read more about my services here.
http://mikeyoungacademy.dk/wp-content/uploads/2018/01/DS9810.jpg
1024
678
Mike Young
http://mikeyoungacademy.dk/wp-content/uploads/2016/08/MikeYoung_logo-1-300x154.png
Mike Young
2018-01-09 10:14:51
2018-04-26 10:16:31
143,000 people have seen Maria's biological experiments